The staff at DFYF and our Community Board hold community and fundraising events throughout the year. We hope you attend a few events, learn more about DFYF programs and support the work we do with youth and families in our community.
Upcoming Events & Activities
---
Friends Helping Families Kick-off Party
Wednesday, October 17, 2018
Grandview Theatre, 1247 Grandview Ave
5:30-7:30 pm
Free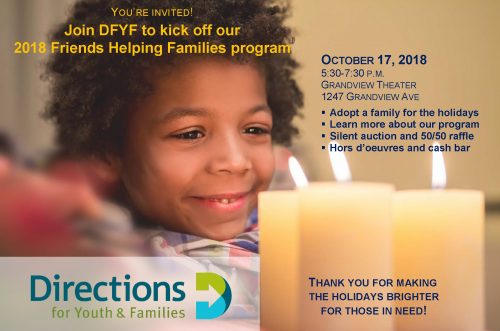 Join us for a happy hour mingle thanking those who support our Friends Helping Families program and welcoming new supporters for 2018! Enjoy free appetizers, cash bar, and Crittenton Center youth carolers. We have wonderful silent auction items (get your Christmas shopping started), 50/50 raffle, and opportunity to adopt a family (or two) for the holiday season. At 6:30 we'll hear a couple of testimonials from DFYF staff sharing how their client families have been touched by Friends Helping Families. We hope you'll join us for this free event.
---
Winter is Here
Thursday, January 31, 2019
Woodlands Backyard, 668 Grandview Ave
Mark your calendar for our second annual winter concert! And yes, Hello My Name is Duane WILL be playing again this year.
---
---
30th Annual State of the Child Luncheon
May 2019
We invite you to join us in celebrating our 30th State of the Child Luncheon, Directions for Youth & Families' signature event where we come together as a community to recognize "the state of the child" in central Ohio. Our luncheon is one-of-a-kind unique because of the music and dance performances enthusiastically presented by youth in our after-school programs. In addition, some of our treatment clients and families share their stories about the impact of our services.
---
---
Dogs & Drinks for Directions
August/September 2019
We're hosting our Dogs & Drinks event in a warm weather month to take advantage of outdoor space. Details coming soon of our hot dog tasting extravaganza!
---
---