Presented by the American Electric Power Foundation
Please enjoy Directions for Youth & Families signature event – our 33rd State of the Child. Our kids welcomed a small audience to their Ohio Avenue Youth Center. The event includes music and dance performances along with original poems from the kids. We share information about our work in central Ohio and celebrate the resilience of our community. It's informative, entertaining, and amazing. We hope you enjoy!
Help us reach our goal by donating today.
Thank you 2022 Sponsors
Champion:
American Electric Power Foundation
Benefactor:
Nationwide

Corporate Underwriter:
Big Lots Foundation
Bread Financial
Partner Plus:
PNC

Partner:
Greif
State Farm
Supporter:
Captivate Productions
Easton Community Foundation
EY
Grange Insurance
Huntington Bank
Johnson Investment Counsel
Mayer Family
Porter Wright
Robert Weiler Company
State Auto Insurance

Contributor:
Kate & John Brody
Cardinal Health
Crane Group
DesignGroup
Fifth Third Bank
Illuminology
Messer Construction
Molina Healthcare
Nationwide Children's Hospital
OhioHealth
Park National Bank
Plante Moran, PLLC
Rhema Christian Center
Schneider Downs
United Way of Central Ohio
USI Insurance Services 
Virtual State of the Child 2021
Presented by American Electric Power Foundation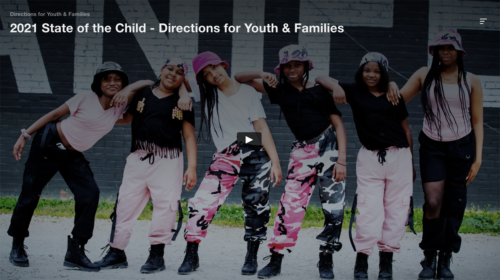 In 2021, the stage for our kids > dance room at Ohio Avenue Youth Center, Crittenton Center community room, downtown Columbus.
Our 30 minute program highlights the kids, clinicians, and provides information about our agency.