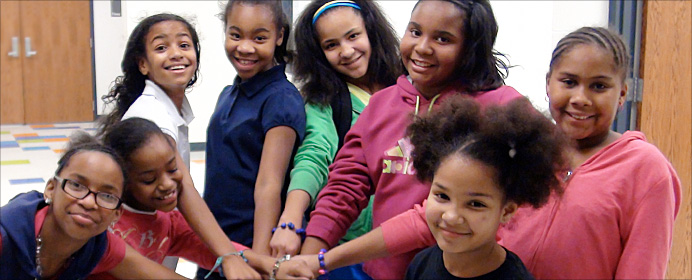 Ohio Avenue Youth Center
657 South Ohio Avenue
Columbus, OH  43205
614-258-8043
School year hours: 3:00 p.m. to 7:30 p.m. Monday through Friday
Structured activities during the time of day when risk for youth's involvement in delinquent behavior is highest.
Summer Program hours: 9:00 a.m. to 3:00 p.m. Monday through Friday
Leadership, recreation and educational activities to make summer learning fun.
---
The Ohio Avenue Youth Center provides a safe, positive environment where young people are encouraged to think creatively, try new experiences, develop tools for self-expression and give back to their community through the arts or service projects. In a high risk neighborhoods with few opportunities, our Centers offer a safe and trusting environment where positive relationships are built.
The DFYF prevention staff instruct youth while allowing them to discuss issues important to them so they can make informed decisions about positive decision-making, peer pressure and healthy behaviors.
The Ohio Avenue Youth Center is open to both current DFYF clients receiving counseling or other services and neighborhood youth who register with their parents' approval. Center activities are provided free of charge to youth, removing any financial barriers for families.
Innovative Activities
Our activities focus on increasing self-esteem and positive values, and providing alternatives to substance use, violence, and other delinquent behavior. We specifically utilize activities to help strengthen interpersonal skills, leadership, and personal responsibility.
After-school programming includes:
Homework Help/Tutoring
Stride Academy – individualized on-line learning program
STEAM Labs
Computer Skills
Healthy Leaders Groups
Substance Abuse Prevention
Life Skills Education Groups
Creative Arts – music, dance, visual
Recreation/Fitness
Clubs – Boy's Group, Girl's Group, Mad Science, Book Club, Photography, and more
The Center has a full-size gymnasium, a large multi-purpose room, significant space on the lower level for sports and fitness equipment, and a computer lab. As part of our nutrition education program, youth help prepare healthy Snack Factory items.  A meal is served each evening during after-school programming; breakfast and lunch is served during summer camp.
RECREATION & ARTISTIC CHOICES
Healthy Leaders: Our leadership program includes discussion groups that address the following issues:
• Qualities of a good leader
• Anger management
• Conflict resolution
• Decision-making and problem-solving skills
• Consequences of substance use and delinquent behaviors
• Personal goal-setting, and much more
Additionally, Healthy Leader participants complete Community Service Projects four times a year
Computer Lab: Homework help is provided daily to all youth.  Tutoring is also available. Additionally Computer Education classes assist youth with basic computer knowledge and navigating all aspects of the computer.
Music:  All aspects of music education and development to play a variety of instruments, read music and participate in a wide range of community performances throughout the year.
Visual Art: Ceramics, jewelry making, print making, painting, drawing, mixed media and fiber art are all taught and developed with all youth that participate in the program.
Dance:  Jazz, Ballet, Hip-Hop and other specialty dances are taught to both boys and girls that have an interest in dance.  They also perform in a variety of community events throughout the year.
Recreation/Fitness:  Many different types of recreation are offered in our full size gym. We also have fitness and exercise room with weight and aerobic equipment; all aspects of fitness are available to all the youth. Additionally, our Ohio Avenue Falcons basketball team is part of league play.
Life Skills:  We utilize a social-emotional learning curriculum. Our life skills group teaches participant's critical life and social skills as a means of promoting health and well-being in youth.
The City of Columbus, United Way, ADAMH, Franklin County Department of Job & Family Services, Ohio Department of Youth Services, and the Parker Lee Foundation provide the funding for the Center's various programs, and all youth who come to the Ohio Avenue Youth Center are encouraged to participate in as many of the ongoing prevention, arts, homework help and recreational activities as they wish.
Download our Ohio Avenue Youth Center information card here.