Duane Casares, LISW-S – CEO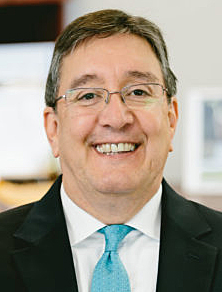 Duane Casares MSW, LISW-S is the CEO of Directions for Youth & Families (DFYF).  He has held this position since 2011, and prior to that served as the Clinical Director working his way up since starting at DFYF in 1990. His strong social work background and unshakable ethics are the foundation for his work. Under his direction, DFYF has grown to be one of the leading mental and behavioral health providers to Central Ohio youth and their families. The agency was named one of Five Nonprofits to Watch in 2020 by The Columbus Foundation and was recognized as the 2017 United Way Champion of Children.
Nationally Duane has been a leader in advancing trauma-informed care. He has spoken at the White House, New York City Public Schools, Bridge Housing Corporation of San Francisco, Boston University Law School, and many more organizations about trauma-informed care and his agency's outreach model. Duane has met with government, local and national leaders to share DFYF's transferable Community Transformation Model, a collaborative approach to addressing poverty and neighborhood redevelopment without gentrification. Additionally, Duane serves as presenter, trainer, consultant, panelist, CEU provider, and educator for numerous organizations, court system, schools, businesses and conferences. 
Duane gives back to the community through his service with several organizations including National Crittenton Leadership Team, Executive Board of United Way of Central Ohio, President's Panel of the Center for Healthy Families, Executive Board of the Human Service Chamber, and Executive Committee of Provider Leadership Association. In 2018 Duane was honored at The Ohio State University with the prestigious College of Social Work Alumni Hall of Fame Distinguished Career Award. He was featured in the 2014 edition of Who's Who in Latino Columbus. He also has a monthly segment on Columbus Perspective addressing community and mental health issues on 97.1 The Fan radio station of Ohio News Network. Duane performs with his son's band for concert events benefiting DFYF.
Patricia Edwards, CPA, MBA  – Chief Financial Officer
Patricia Edwards is the Chief Financial Officer (CFO) at Directions for Youth & Families, she has been with the agency since 2020.  Her role includes overseeing all aspects of financial operations and fiscal management.  Pat provides strategic, accounting, budgetary and operational support to all programs and activities.  She directly oversees and supervises the financial/accounting staff.  Her background includes over 20 years of senior leadership experience in nonprofit finance.  Pat has a Master of Business Administration degree and is a Certified Public Accountant.
John Cervi, MS. Ed., LSW  – Chief Operating Officer
John Cervi is the Chief Operating Officer (COO) at Directions for Youth & Families, he has been at the agency since 2000. His role includes overseeing the overall agency functions and operations.  He provides oversight and supervision of all programs, planning, development, implementation, evaluations and capacity.  He oversees the agency Management/Administrative staff and provides feedback and direction.  His background includes over 38 years of work in Social Services.  He has a Master's Degree in Clinical Counseling and is a Licensed Social Worker.
Mary Margaritis  – Development Director
Mary Margaritis is the Development Director for Directions for Youth & Families. Her role includes partnership with the Chairman, Board of Trustees and the Development team to manage and coordinate donor relations as well as implement our fundraising campaigns. She works to maintain strong relationships with donors and friends of the organization and to communicate effectively with internal and external client. She is also working to expand the relationships of our organization as we move forward with our mission in the community.
Mary comes with 34 years of business experience as a Vice President/General Manager from the retail world where she consistently led a team to collaboratively exceed the goals of the organization and promote the Macy's brand.