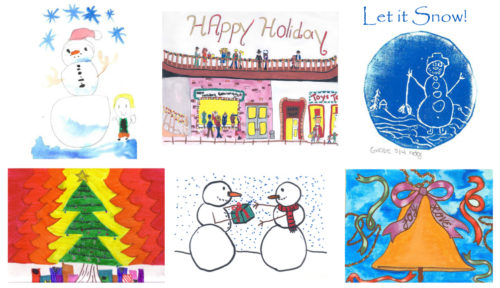 Greeting Cards
DFYF is very excited to bring our greeting cards back. Artwork is created by our youth center artists. This year we have 6 colorful designs. Card packages have 2 each of 6 designs. 12 cards/12 envelope packages are $20. We have a limited quantity so order yours today! Email your order here.
Soul Bowls, Ceramics, and Other Items
A unique selection of soul bowls, ceramic  items, and canvases are available for purchase. Items are created by youth center artists along with a production team. This team is made up of extremely art motivated youth who create unique and beautiful items, including painting DFYF's signature soul bowls. They experience "creating with a purpose" and learn creative and business skills involved in art production. The wooden bowls are available for sale and make a wonderful gift. By purchasing a unique piece of art you are supporting our youth center art and leadership programs. Special orders are accepted. Please contact the Development Department at 614.294.2661 or email us.