Directions for Youth & Families Selected as
2022 Honoree of The Columbus Foundation Award!
Directions for Youth & Families was honored to receive the 2022 Columbus Foundation Award in recognition of the important role our counseling and educational programs play in bringing stability and opportunity to youth, families, and neighborhoods.
Since 1986 this award has recognized organizations making a difference and improving the quality of life in central Ohio. As part of the award, DFYF received a $100,000 unrestricted grant from The Columbus Foundation for the continued support of our mission to build and inspire hope, healing, and resilience for youth, families, and communities through counseling and education.
We would like to thank The Columbus Foundation for this honor and all who support our work in the community.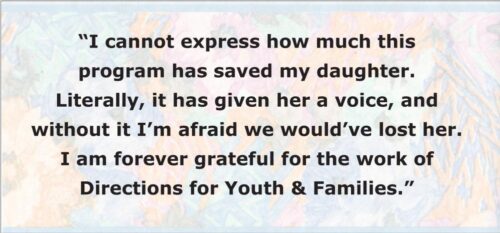 "For generations, Directions for Youth & Families has provided safe spaces and expert care for those needing stable, positive influences in their lives. The Columbus Foundation is honored to support their vision of building healthy individuals, strong families, and safe communities."
-Dan A. Sharpe, The Columbus Foundation
Here's what our funders are saying about DFYF:
The staff are very passionate about what they do and they are extremely aware of meeting families where they currently are.
They equip their staff with skills to work with culturally diverse populations.
They serve youth and their families who are in need regardless of their household income.