Duane Casares, LISW-S – CEO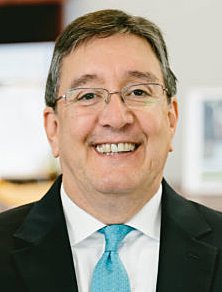 Duane Casares has held the CEO leadership role for Directions for Youth & Families since 2011. He has been with DFYF since 1990 holding the position of Clinical Director for most of his tenure. As CEO, Duane has led the organization to be one of the leading mental health providers to Central Ohio youth and their families. The agency has adopted a resiliency-oriented, trauma-informed format that informs all of their programming. Duane has coordinated agency-wide changes in structure and programming leading to ODADAS, ODMH, and COA accreditation.
Duane's strong community relations include serving on the board of United Way of Central Ohio, Executive Board of the Human Service Chamber, and the President's Panel of the Center for Healthy Families. He has been an adjunct professor in the College of Social Work at The Ohio State University for seven years and has spoken nationally on issues of Cultural Competency, Effective Management in Creating Healthy Work Environments, and Values, Beliefs & Boundaries. Duane was invited to speak at the White House in 2016 for his agency's work with the Adverse Childhood Experiences trauma assessment tool. He served two years as an Expert for the State of Ohio Social Work, Counselor and Marriage & Family Therapist Board.
Duane was featured in the 2014 edition of Who's Who in Latino Columbus. He has a weekly segment on Columbus Perspective addressing community and mental health issues on 97.1 The Fan radio station of Ohio News Network.  Duane received his Master of Social Work from The Ohio State University. His background as a Clinician, research/lecturer and CEO has informed him as a presenter, trainer, consultant, CEU provider, and educator.
John Cervi, LSW  – Director of Programs
John Cervi is Director of Programs at Directions for Youth & Families. His role includes agency program planning, development, implementation, and evaluation. He supervises all Clinical Program Managers, the After-School Program Manager in addition to other agency Administrators.  Counseling programs specialize in mental health issues, child abuse/neglect, sexual abuse, substance abuse, domestic violence, anger management, delinquency, and school problems. His background includes over 30 years of work in Social Services.  He has a Master's Degree in Clinical Counseling and is a Licensed Social Worker.
Jamie McKenna – Finance Director
Jamie McKenna has served as Finance Director for Directions for Youth & Families since 2013. Jamie has worked directly in the Columbus non-profit community since 2010 and indirectly for over 20 years prior to that when he was a CPA in a public accounting firm.
Mary Margaritis  – Development Director
Mary Margaritis is the Development Director for Directions for Youth & Families. Her role includes partnership with the Chairman, Board of Trustees and the Development team to manage and coordinate donor relations as well as implement our fundraising campaigns. She works to maintain strong relationships with donors and friends of the organization and to communicate effectively with internal and external client. She is also working to expand the relationships of our organization as we move forward with our mission in the community.
Mary comes with 34 years of business experience as a Vice President/General Manager from the retail world where she consistently led a team to collaboratively exceed the goals of the organization and promote the Macy's brand.