NEWS & MEDIA
Directions for Youth & Families News

Parker Lee Foundation presents DFYF with a big $20,000 check "For the Kids!"
Thank you to our friends at Parker Lee Foundation for generously planning and hosting a sold out PBR10K'15 event with proceeds going to DFYF (and as they phrased in the subject line of the check, "For the Kids!"). 1,150 people enjoyed four bands, almost 300 Donato's pizzas and, of course, PBR at Park Street Complex on February 28th. We thank PLF and all who supported this great event!

---


Directions for Youth & Families was named one of the top places to work by The NonProfit Times, April 2015.
Directions for Youth & Families was named as one of the 2015 Best Nonprofits to Work For by The NonProfit Times and Best Companies Group. Only 50 organizations were chosen nationally. Of this distinction, CEO Duane Casares said, "It's exceptional for DFYF to be nationally recognized for this important, fully embraced work culture that we have in place. We strive to support our front-line staff because they are the ones who deal directly with our clients, and serving our clients is our #1 priority. The work we do is important in our community. We feel very proud of the organization we've built". A special report profiling the selected organizations is in the April 2015 issue of The NonProfit Times.
---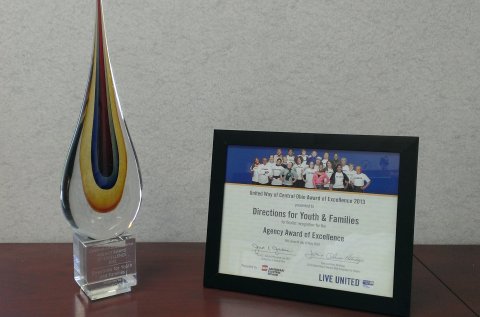 Directions for Youth & Families took home the top honor at the
United Way of Central Ohio Celebration of Excellence in May, 2014.
"Receiving the 2013 Agency Award of Excellence is an honor of which we all can be very
proud. Thanks to all of our staff for their contributions and support of our United Way
campaign," Duane Casares, DFYF CEO, said.
---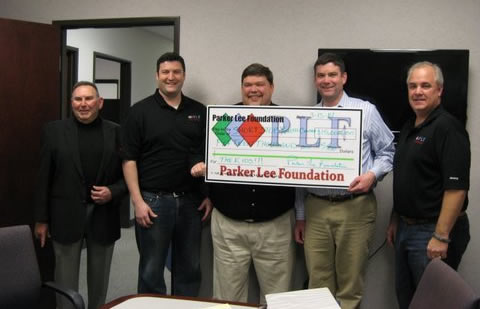 Parker Lee Foundation Raises $15K for DFYF After School Programming
Parker Lee Foundation board members present check to DFYF Vice Chair Allan Dinsmore.
Pictured here are (from left): Ron Kowal, Josh "Parker" Adkins, Kim "Lee" Niswander, Allan Dinsmore,
and Todd Baumann. Not pictured is Joe Gaynor, who was taking photos.
THANK YOU!
A huge THANK YOU to the Parker Lee Foundation (PLF) for the generous donation of $15,000 in proceeds from its 2014 PBR 10K event!

Directions for Youth & Families has been the beneficiary of generosity from PLF's largest annual event for the past five years. PLF members developed a heart for giving to DFYF's after school prevention programs after they parked cars at Short Stop fundraising events when they were in college. They have grow this annual event each year, with the 2014 PBR 10K attracting approximately 1,100 attendees!

The PLF board members pictured above presented the $15,000 check at DFYF's March Executive Committee meeting and then visited Short Stop to share the good news with Chp Smith, who was the original DFYF person with whom they worked.

Thanks to the Parker Lee Foundation for the remarkable ways they touch and change the lives of young people in our community through their generosity!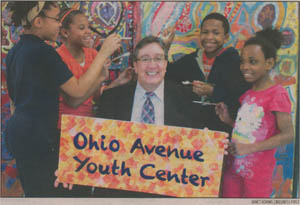 Directions for Youth & Families CEO Duane Casares visits with kids in the nonprofit organization's after-school program at Ohio Avenue Youth Center. From Left to right, he is being "painted" by Zaitah Rose, Yvonne Blalock, Andre Stanford and Kezia Ransom.
Art is one of the activites offered through the program.
READ MORE >